Fast No Yeast Pizza Recipe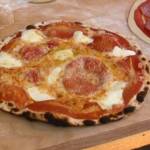 Ricetta:
No Yeast Pizza
By:
VivaLaFocaccia
Pubblicata il:
Tempo di preparazione: 60 minuti
4.00 su 5 di media (1 voti)
Here's my video recipe for home made no yeast pizza baked in a wood fired oven
As I have said before, the key to a great pizza is using very little yeast, letting the dough rise slowly and having the oven at a very hot temperature so that it can bake in just a few minutes. This way the toppings and condiments won't dry up.
The problem is we often don't have much time on our hands when we make pizza at home, so today I'm going to share with you a new recipe, which allows you to make a thin crust pizza like the one you'll find in a true Italian Pizzeria in just 60 minutes, baked in my Alfapizza.it oven.
It is a recipe I devised with Angelo, my brother in law. We used the dough for the Focaccia di Recco, which doesn't require the use of yeast. The idea was to manage to make it and bake it in under 60 minutes in a wood fired oven, as Alfapizza.it ovens reach really high temperatures in a very short time, as you can see in the video.
For a more traditional, Neapolitan-style recipe, click here, and if you don't have a wood fired oven, click here for instructions on baking in a home oven.
Click here to see pictures of pizzas made by Vivalafocaccia followers or to share your own.
Quick Home-Made Pizza Video Recipe
Ingredienti Pizza Veloce
250 g Water
40 g Extra Virgin Olive Oil
450-500 g 00 flour (12% protein e.g. Caputo Pizzeria)
(or you can mix bread flour with 30% high gluten flour)
10 g Salt
Procedimento
Start by adding water, oil salt and half of the flour into the mixer bowl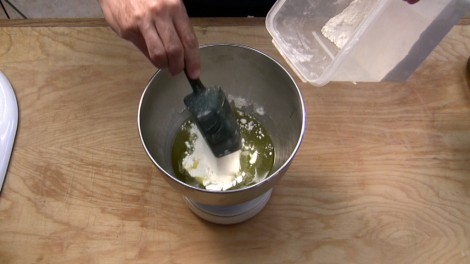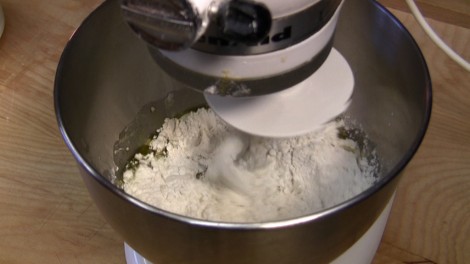 When the flour is nicely absorbed, turn off the mixer, cover and let the dough rest for 15 minutes. This will allow the gluten to develop through a process called autolysis and will make your dough more elastic.
After 15 minutes, turn mixer back on and slowly add remaining flour
Knead for 10-12 minutes at medium speed
The dough should be rather dry and elastic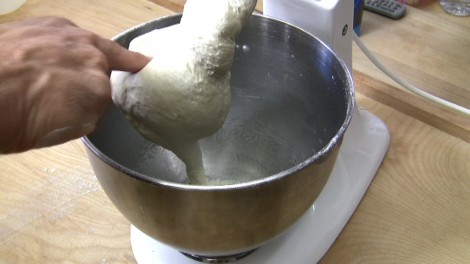 Split the dough into pieces weighing approximately 180g each
Flatten them out and then roll them up like you see in the video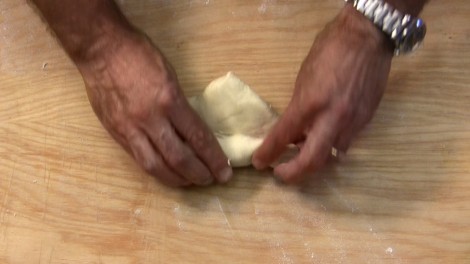 Turn each roll 90° so it is cut side up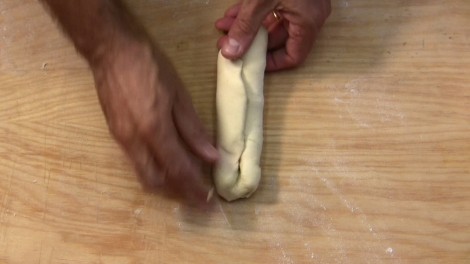 Roll each piece onto itself one more time to further develop the gluten and strengthen the dough.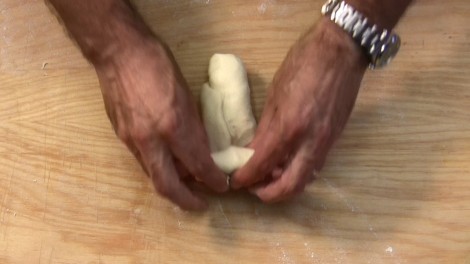 Flour your worktop or a plastic tray
Lay the little dough balls on the floured surface and flatten them out a little, this way they'll be easier to roll out later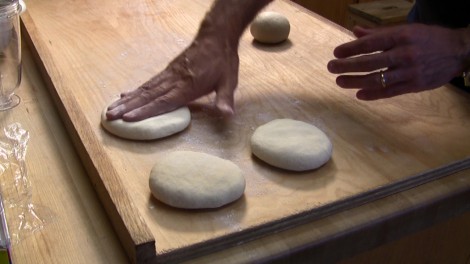 Sprinkle a little flour onto each piece of dough
Cover them with a piece of plastic wrap so they don't dry up. This is really important  to avoid the formation of lumps which would make it difficult to roll out the dough later on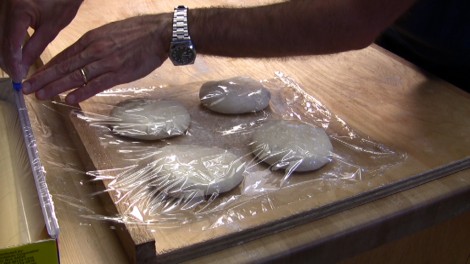 Let dough rest for 20-20 minutes.
You may want to make your dough a day in advance and let it rise in the fridge overnight. You'll have to take it out of the fridge 20 minutes before baking time.
Fire up your oven (if you don't have a wood fired one, click here for how to bake in a home oven)
Roll out your dough carefully with a rolling pin so that it is nice and even, sprinkling it with flour on both sides so it doesn't stick to the worktop.
Sprinkle some flour onto your pizza peel and place the crust on top
Top the pizza crust with your favorite condiments and toppings
My oven is "4 Pizze" by AlfaPizza.it, which can reach the ideal pizza baking  temperature 400-450°c (850 F) in about  5 minutes. I light it up as you see in the video and I let the embers form, then move them to one side and I make sure I still have a bit of a flame going in there.
Place your pizza directly on the hearth, keeping your peel horizontal and snatching it away in one quick motion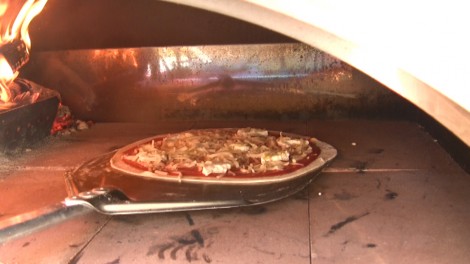 Bake for 2-3 minutes tops. This kind of crust tends to form air pockets when baking . Just pop them with the tip of a knife
Here's your thin Pizzeria-style pizza in less than 60 minutes
Click here for more pizza recipes, including the one with yeast and the one with sourdough.
Ciao
Vittorio